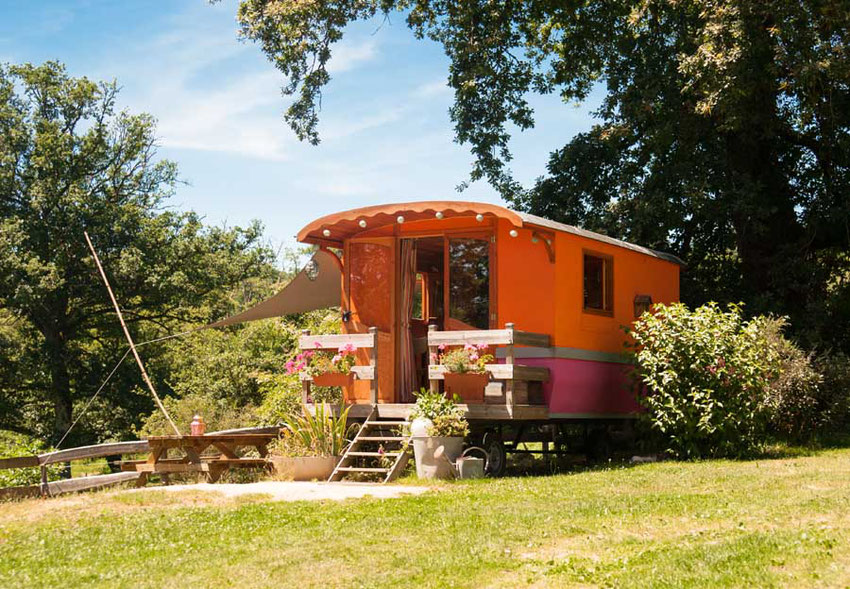 Very dapper with its bright colors, the Roulotte des Ânes de Vassivière inspires the joy of living!
In the shade of a large oak tree, it overlooks the meadow where the donkeys graze peacefully. Seen from here, the Limousine mountain is as bucolic as you want ...
As soon as you have climbed a few steps, you are in your cozy little wooden house: a real little nest for a romantic getaway!
The alcove where to sleep is an invitation to a romantic evening. But before that, prepare the evening: the light of a candle, a stick of incense, a few notes on the guitar, a beautiful story of gypsy inspiration ... Donkeys with long ears will surely come to listen.
---
Opening dates for the 2023 season : from 04.15 to 10.31
Our prices : from €53/€82 (2 pers. / breakfast included) / Good idea ! the price decreases from 3 nights
The trailer is installed under a large oak tree on the edge of the donkey meadow and on a 25 hectare estate by the river. The farm buildings are very close (reception, cafe, small shop, toilets ...).
The cars stay away. Children can play in peace.
The caravan can welcome 2 adults  (surface: approximately 12 m2). It's settled on a small terrace in overhang of a meadow and in any closeness of the farm.
It's furnished with : 1 queen-size bed +  table and chairs). The caravan is lit. It's also warmed in April and October.
Bed has the following : blanket, and pillow (you can bring along sheets, duvets and pillowcases).
---
---
---
Breakfast is offered in the form of a take-out basket: hot drinks, fresh bread, jams, honey, fruit juice, etc. are offered to you in particular. We favor local products as much as possible.
For dinner: locavore packed lunch every day by reservation, with a selection of specialties from regional producers.
Available in the trailer: a microwave and a small refrigerator.
The closest shops and restaurants are in the village of Peyrat (2km). + see the kitchen
The sanitary facilities are modern, spacious and bright. They are located about 100 m from the yurts. It's vera important for us to guarantee the impeccable cleanliness of the premises.
For a pleasant session of relaxation and relaxation, a sauna is at your disposal. Possibility of Californian massages on reservation.
Lake Vassivière (beaches, water sports, art center ...), medieval villages (Eymoutiers, Bourganeuf, Saint-Léonard) the regional natural park, Limoges and porcelain, Aubusson and tapestry (Unesco). Lots of activities: many hiking, horse riding, mountain biking, canoeing routes ....